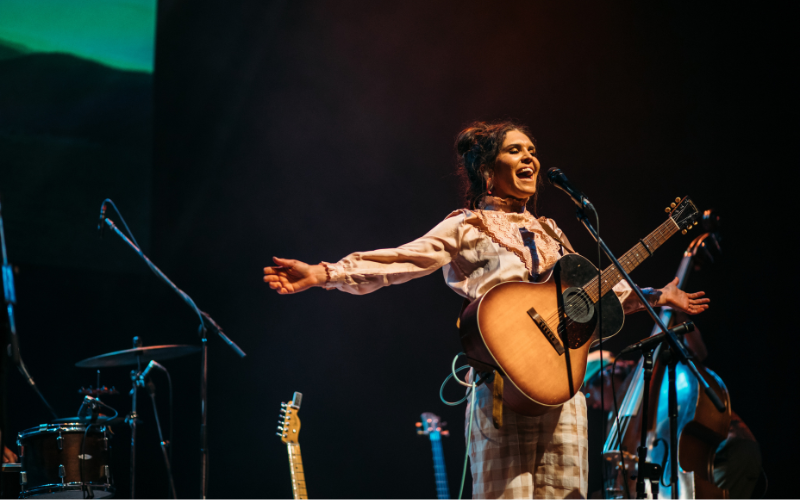 Fanny Lumsden Live in Lumsden
Lumsden Memorial Hall
Cost
Under 5 free, 5 - 17yrs $20
18+ $40, Family (2A3C) $100
A Country Halls Tour
PGG Wrightson Lumsden & Ballance Agri-Nutrients Lumsden presents ARIA & 8 x Golden Guitar Winner Fanny Lumsden's (AU) first NZ 'home-coming' show!
Australian artist Fanny Lumsden 'has established herself as one of the genre's most esteemed performers' (The Australian) with her ARIA chart topping and breakthrough album Fallow which had a clean sweep winning
every album of the year category in 2020 and 2021 including Album of the Year at the Golden Guitar Awards, Country Album of the year at the ARIA awards and the AIR awards.
Known for her Country Halls Tour, her incredible live shows are filled with harmonies, storytelling and joy. Fanny has recently been on the road with Paul Kelly and she is really changing up how things are done.
Having grown up on a mixed cropping and sheep farm in Western NSW and played in hundreds all over Australia, bringing live original music and story telling to small communities mean a lot to Fanny Lumsden so don't miss her first ever ticketed name-sake show at the Lumsden Hall! Shall we call it a home away from homecoming?
Thanks to PGG Wrightson Lumsden & Balance Lumsden for their generous support of this event.
Location
8 Meadow St
Lumsden 9730
New Zealand
View map